I Am Jazz (Hardcover)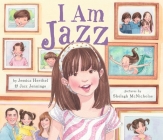 $17.99
Usually Ships in 1-5 Days
Description
---
The story of a transgender child based on the real-life experience of Jazz Jennings, who has become a spokesperson for transkids everywhere

"This is an essential tool for parents and teachers to share with children whether those kids identify as trans or not. I wish I had had a book like this when I was a kid struggling with gender identity questions. I found it deeply moving in its simplicity and honesty."—Laverne Cox (who plays Sophia in "Orange Is the New Black")

From the time she was two years old, Jazz knew that she had a girl's brain in a boy's body. She loved pink and dressing up as a mermaid and didn't feel like herself in boys' clothing. This confused her family, until they took her to a doctor who said that Jazz was transgender and that she was born that way. Jazz's story is based on her real-life experience and she tells it in a simple, clear way that will be appreciated by picture book readers, their parents, and teachers.
About the Author
---
Jessica Herthel is the director of the Stonewall National Education Project, which networks LGBTQ inclusive school districts and develops educational materials for the classroom.

Jazz Jennings is twelve years old. She is an honorary co-founder of the TransKids Purple Rainbow Foundation (www.transkidspurplerainbow.org). She has appeared on the Oprah Winfrey Network, 20/20 specials with Barbara Walters, and The Rosie Show, and she speaks at schools and conferences across the country.

Shelagh McNicholas has illustrated many books for children, including The Perfect Pony and Little Ballet Star. She lives in England.
Praise For…
---
A 2015 Rainbow List Selection

"All young people—regardless of difference—deserve the things Jazz shares in her lovely book: a loving family, supportive friends, and the freedom to be their true selves. A beautifully illustrated and accessible primer on one trans girl's journey of living her truth."—Janet Mock, New York Times bestselling author of Redefining Realness 

"I wish I had had a book like this when I was a kid struggling with gender identity questions. I found it deeply moving in its simplicity and honesty."—Laverne Cox, acclaimed actress and transgender advocate 

"Jazz is a sensitive and courageous young woman. Her story is inspiring and important to read. By sharing her experiences and view she has added to our understanding and compassion for the transgender experience."—Barbara Walters

"A terrific and timely book that explains to kids what it means to be transgender and—more importantly—that reminds kids our similarities are much more important than our differences."—Jodi Picoult, New York Times bestselling author of The Storyteller and Between the Lines

"I Am Jazz is honest, inspiring, and beautiful—but its greatest strength is it never apologizes for being different."—Brad Meltzer, New York Times bestselling author of I Am Amelia Earhart