The Pedro Almodovar Archives (Hardcover)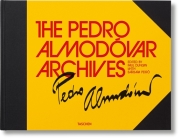 $70.00
Usually Ships in 1-5 Days
Description
---
We are so excited
Unique inside access to the mysterious, sexy world of Pedro Almodovar

One of the most prolific and influential auteurs at work over the past 40 years, cult Spanish director Pedro Almodovar has beguiled audiences worldwide with his thrilling dissertations on desire, passion, and identity. Cast an eye over his long list of productions and you're confronted with intoxicating tales of psychological melodrama, black comedy, familial feud, and violent lust.

This new edition of The Pedro Almodovar Archives offers unique inside access to behind-the-scenes pictures, archival ephemera, and personal reminiscences tracing the director's journey from his early days right through to I'm So Excited (2013) and Julieta (2016). Based on and expanded from the original TASCHEN XL volume, which was produced in collaboration with Almodovar himself, the book offers a fascinating insight into the creative process behind such cinematic tours de force as Women On The Verge Of A Nervous Breakdown, the Academy Award-winning All About My Mother, and Talk To Her.

On top of the vivid archival material, each film is featured with its original poster, full cast and crew listings, as well as an essay by a Spanish film critic. As an overview of a true original's creativity and a luminous era of cinema, this is an indispensible companion to the mighty Almodovar canon.